FIRST® Robotics Competition (FRC®)
Prior to 2000 the control system used for the FIRST Robotics Competition (FRC) was loaned to teams and had to be returned at the end of each season for reuse the next year.


Control System Components
The control system was essentially a radio controlled car system and was not programmable. It provided much more fine-tuned control than previous systems with the introduction of real variable speed joysticks (CH Flightstick).
It had three major components:
Transmitter - driver controls
Receiver/Relay Box - RC-style robot controller
Motorola RNet 9600 radio modems - 411MHz telemetry data radio transmitter & receiver connected to the two components above
The radio modems were bypassed by unplugging them and connecting a cable tethering the Driver controls directly to the robot.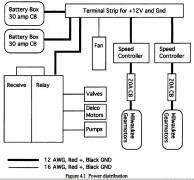 FIRST 1996 Control System Manual
Receiver/Relay Box (Robot Controller)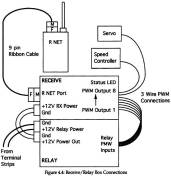 8 PWM outputs - 6 can be used to drive relays (forward/reverse/off). At least one must be used for Relay.
6 Relay outputs - driven by PWM output or onboard switches, e.g. limit switch
2 Relay switch inputs
RNet radio Port
Transmitter (Driver Controls)
Only 8 inputs can be sent to the robot, but there are 12 available input channels (8 variable + 4 (forward/reverse/off)) selectable by DIP switches.
The layout provided connections for:
Two (2) joystick gameport connections used with CH Flightsticks & it's buttons
A radio modem/tether port
An Auxiliary Input port for user created switches and potentiometers

Get Microsoft Excel Viewer
Get Microsoft PowerPoint Viewer
Get WinZip